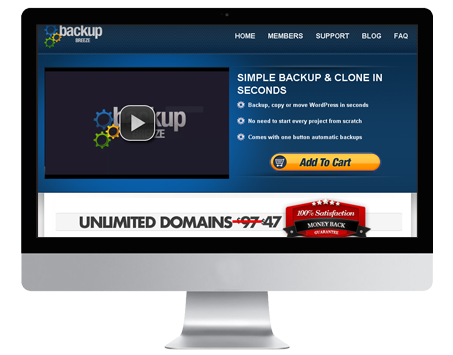 Easily Backup, Copy, Clone, Move or Restore any WordPress website
Description
Usage
Change Log
BackupBreeze is a One – Click Backup Plugin to Restore and Move WordPress.
You can copy, move, clone, backup and restore any WordPress site using this WordPress Backup Plugin.
Do you really want to wait till disaster strikes ? What would you do if your site was hacked today?
What if your developer accidentally makes a change and messes up your entire site?
A small investment today ensures peace of mind tomorrow.
Isn't your site worth so much more ?
It allows you to auto schedule your WordPress site's backups. Enabling automatic backups will give you peace of mind, knowing that no matter what happens, you can restore your site in seconds.
Features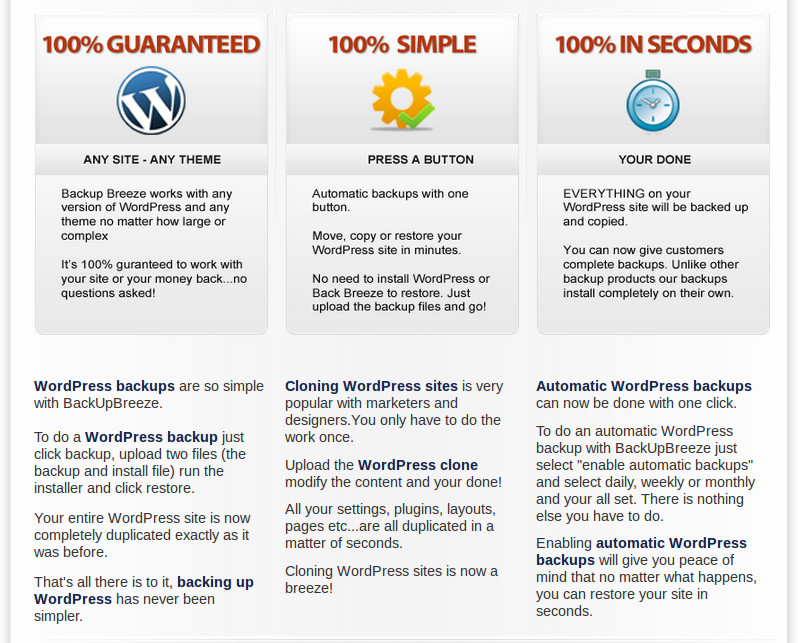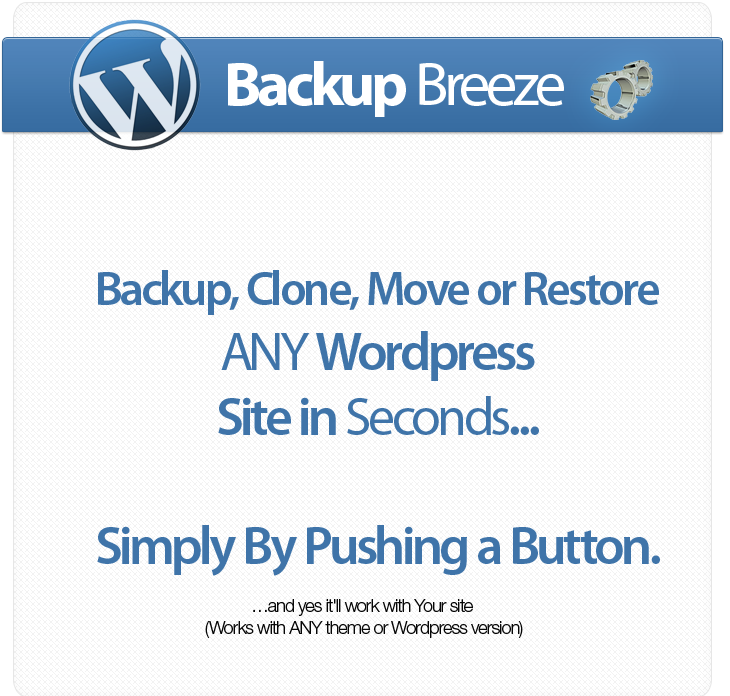 Why BackupBreeze ?
Looking for the best WordPress backup plugin? Get BackupBreeze for a full WordPress backup.
Your site is vulnerable. It could be hacked. A bad plugin could break it. And you too could bring it down with unintended changes to the code. So, you must take backups. Backing up a WordPress site is easy with BackupBreeze. It works with each WordPress version and theme.
Cloning WordPress sites is popular as it saves rework. You can use BackupBreeze to copy a WordPress website. Settings, plugins, layouts, pages along with all the other elements of the site can be copied within seconds.
You do not have to remember to take a backup. BackupBreeze does this by itself. To use the automatic WordPress backup feature, you only need to set the frequency at which you would like to take a backup. You get to decide the minimum number of backups that you want to keep for your site.
In case you work in a local or temporary environment, you can move your complete WordPress website within seconds.
With BackupBreeze – the best way to backup , clone, copy,move or restore your WordPress website.
Backup Breeze Demonstration
Video training
How To Back Up
How to install and make backup copies of your wordpress site
Installing Backup Copy on New Server
How to install your backup copy on a new domain or server
Installing a backup file on same site
Installing a backup file on a new server
Can't Login To New Site
If for some reason you can't login to the WordPress site you just uploaded, follow these instructions to reset the login username and password in your web hosting cpanel.
Restore Site and Where Your Files Are Located
Just Doesn't Work
Install.php Error
A few people have experienced errors using the install.php file to install their backups.
This method fixes most of those problems.
The file install.php simply unzips the main backup file on the server. A few hosting companies have settings that cause problems with this.
Download the backup zip file
Unzip it to a folder on your desktop
Upload the contents (not the folder) to where you want the site to go
If you haven't done so already, make a new database, username and password
Go to where you uploaded the contents in your web browser and type in installer.php
examples:
yoursite.com/installer.php
If you uploaded it to a directory (folder) it would be yoursite.com/directory/installer.php
Fill in the blanks with your database information and click restore. This should solve the problem.
*Please note that if you attempted it with the install.php script and it failed and gave you an error some portion of it may have modified the original database you made. It's recommended you simply delete and make a new database before running installer.php
Version 1.3 (11-Jul-2014)
-------------------------------
- Fixed issues with the PclZip extraction option from the earlier version
- BackupBreeze will now use the default WordPresWP_Quiz_V1.0s PclZip Library


Version 1.2 (21-Apr-2014)
-------------------------------
- Ability to specify the minimum number of local backups that you wish to keep
- Ability to specify the files, directories which you want to skip in backup process


Version 1.0 (14-Jan-2014)
-------------------------------
- Initial Release