Top marketers like Neil Patel, Rand Fishkin and many more know the power of surveys and exploit it to the fullest on their websites. A good survey form can increase your conversion rates to more than 400%. Yes, they are so effective.
In order to create an engaging survey form, you need functional survey software. If you have a WordPress site, then you are in the right place. Because SurveyFunnel is one of the best and modern Survey plugins for WordPress sites in the market.
With Survey Funnel – WordPress Survey Plugin capture qualified leads, engage your audience, gain customer insights, and build out your sales funnel.
Features of SurveyFunnel :
Conditional Logic
SurveyFunnel makes use of a powerful conditional logic that allows you to base the next question depending upon the user's last response. This is a great way to hook your visitors.
Do you realize how this feature gives you absolute control? These surveys conclude with your Call-to-action. So, you're literally hand-holding your visitors to your Call-to-action. This instantly boosts optin rates, site conversions rate and of course the overall site profits.
Super Analysis
SurveyFunnel helps you gain meaningful insights from your visitors. With advanced analysis features, you can learn about how your visitors are responding to your surveys. You can also see the options that are performing well. You can try several options while defining your themes. The live preview option reflects how your survey is looking at the current settings.
MailChimp Addon
We have now created an addon for MailChimp that provides a super-easy way to integrate all your online forms with the MailChimp email marketing service.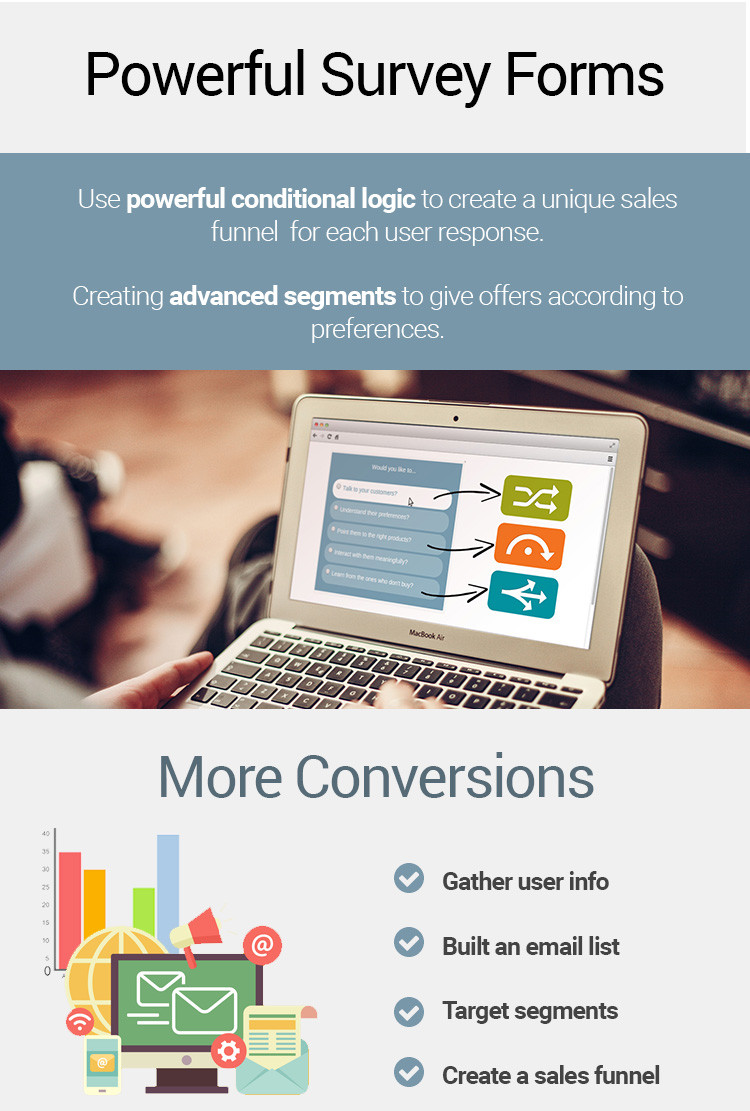 Lead Generation
You can create targeted survey questions and segment customers according to their responses. If you want to increase you subscriber list, you can have a lead generation form at the end. Or, if you want to redirect them to a sales page or squeeze page, you can do that too with the Best WordPress Survey Plugin.
By asking strategic questions, users are engaged and you get high conversion rates. So, SurveyFunnel is a WordPress Survey Plugin as well as a Questionnaire Plugin. Surveys are engaging and entertaining making them the perfect lead magnet for your business. And now, it is even better. With the new design and survey forms, you can now convert even better.
You can also set cookies for your surveys so that visitors who have filled up the form won't see it again.
Building Email List
Change the Way You Build your List Forever
SurveyFunnel gathers a lot of information about your visitors. This helps in creating advanced segments that lead to better offers.
Mobile Friendly Functionality of WordPress Survey Plugin
Surveys created using SurveyFunnel look great across all mobile and tablet devices. SurveyFunnel will enable you to create attention-grabbing slide out surveys and quizzes that can be viewed on any computer, tablet, or mobile device. These surveys or quizzes will catch your users attention, and lead them down a high converting sales funnel.
Define your Own Theme
SurveyFunnel comes with a set of predefined themes. But you can create and add your own themes too.
Image/Video Sharing
Base your questions on videos / pictures in header section. SurveyFunnel is integrated with video sharing sites like YouTube, Vimeo, Viddler and much more…

Super Flexible Surveys
You have complete freedom while defining each and every element of your survey. Create your perfectly customized theme within minutes using this plugin's intuitive platform.
Once you define a new theme and save it, it shows up along with the plugin's default themes. You have the option to edit it later in case you need to. You may reuse this theme over any of your surveys.

Multisite Support
SurveyFunnel has multisite support capabilities. You don't need to worry about installing it on every site separately.
Support Multiple AutoResponders
Supports Email Marketing Softwares like Aweber, GetResponse, Icontact, MailChimp, and many others.
Multiple options to Display your Surveys
Choose to place your surveys & quizzes as a sidebar, or widgets, or use it on a page.
Export detailed Reports to Spreadsheets
Keep track of your surveys & quizzes by exporting the detailed reports of survey results into a spreadsheet(.xls).
Enhanced Imprints
Every click on a slide-out survey will be recorded as an imprint. Hence, you will now be able to see the number of times users click on your slide-out surveys.

Best WordPress Survey Plugin Features:
Unlimited real-time surveys
No limit to responses
Catch Unlimited users and domains
Mobile friendly
Advanced Analysis
Multisite support
Multiple choices and write-in answers
Modern themes for survey forms
Conditional logic for targeting
Lead generation forms
Call to action overlay
Image / video sharing option
Highly customizable forms
Enhanced imprints
Integration with all mailing services
Taking Surveys to a Whole New Level with WordPress Survey Plugin. Imagine being able to interact with your site visitors on a level like never before.
Things you can learn about your visitors with SurveyFunnel:
Their Likes and Dislikes
Why are they on your Site?
What Content/Services did they come looking for?
What is the kind of Content that they'd like to see?
MailChimp Addon for SurveyFunnel
We have now created an addon for MailChimp that provides a super-easy way to integrate all your online forms with the MailChimp email marketing service. All you need to do is link your Survey to your MailChimp account, and subscribers will be added to your mailing lists automatically as and when a form is submitted. You just need to follow these steps:
#Step1: Add the MailChimp API Key and enable the MailChimp subscription checkbox in the MailChimp settings

#Step2: Mention the mailing list id in which you want to add the details of the participant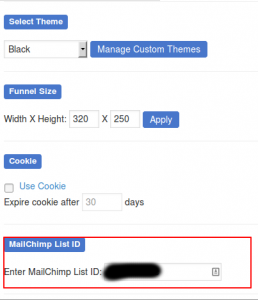 Updates
Now SurveyFunnel comes with more theme colour options to choose from. Apart from 12 colour options to choose from SurveyFunnel now comes with pure white background to show your surveys in beautiful manner.
Embedded Survey Type

Shortcode Survey

More updates coming soon