WordPress WooCommerce Newsletter Plugin automatically connects your WooCommerce store with MailChimp.
You can seamlessly integrate your store with MailChimp and upsell or send newsletters to customers turned subscribers.
---
Key highlights of WordPress WooCommerce Newsletter Subscription Plugin: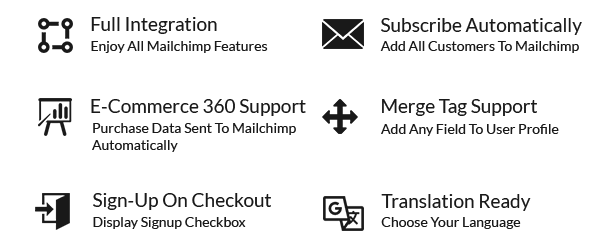 WooCommerce MailChimp Integration Makes Ecommerce Marketing Easy
---
Get customers subscribed to your MailChimp List. Choose from multiple Mailing Lists. Decide which Ecommerce Fields you want to capture in your MailChimp Lists. As per the legal rules of the country, you can allow customers to opt-in for Newsletters or automatically add them to your List once they purchase.
Automatically connects to your MailChimp Account. With advanced merge field selectors, choose which fields you want to send to your list. Auto Mapping Feature to select and map your existing fields of MailChimp List and Woocommerce checkout fields.
---
Additional MailChimp Functionality:

MailChimp is one of the most used email marketing services which is specifically designed to send email campaigns, manage subscribers, and different attributes to your campaign list and lastly, track analytics of all your campaigns.
All these features make MailChimp a perfect fit for your WooCommerce store marketing.
Once you have integrated your WooCommerce account with MailChimp you'll be able to send some powerful marketing emails with MailChimp to all your customers. With this plugin, you can gather purchase data of your customers. This would help you in creating specific segments in MailChimp as per customer buyer persona. And would help you in sending customized emails to the customers according to their segments.
Different Types of Emails you can send with MailChimp Integrated WooCommerce Newsletter Subscription Plugin:
- AutoResponser type emails: Thank you for subscribing emails, Documentation for your
products.
- Promotional Mails: Differents offers to the right customers using segments.
- Mails on Buyer Persona segment: Mails to previous customers.
- Geographical Mails: Mails on their billing/shipping Geo-location.
- Brand Marketing emails: Top-selling items for brand marketing.
---
Features List Of WordPress WooCommerce Newsletter Plugin:
Get Complete WooCommerce Newsletter Subscription Plugin with MailChimp Integration.
Opt - in Checkbox on Checkout
Custom Text for Checkout
Field Mapping Feature - Select which eCommerce or User Field you want to send and Select the target Column
Adds Customers automatically
Select between Double Opt-in and Single Opt-in
Advanced Targeting Enabled on MailChimp
Advanced Autoresponders enabled
Translation Ready
MailChimp Latest API Compatible
Customization Service Available
==UPDATES==
Version 2.3.0 (16 Feb 2017)

* Change look and feel of field table.

Version 2.2.0 (13 Feb 2017)

* Fix small bugs.

Version 2.1.0 (10 Feb 2017)

* Added Ecommerce 360 Functionality.

Version 2.0.0 (02 Feb 2017)

* Added Merge field feature functionality.

Version 1.0.0 (18 Dec 2015)

* First version of WooCommerce Newsletter Subscription Addon