Increase Lead Capture With WordPress Quiz - BuzzFeed Quiz Builder Plugin
BuzzFeed Quiz Builder Plugin allows you to easily create quizzes which goes viral like BuzzFeed Quizzes. With BuzzFeed type of designs, create attractive quizzes which engages your visitors. You can also capture email leads on results page or redirect users to a squeeze or sales page.
Quizzes which test trivia knowledge with attractive images keeps visitors engaged. When people are playing a quiz, they remain on average three times longer on your site.
Once engaged, you can show them relevant ads. You can also setup a lead generation form after the quiz. You can also send them results, similar quizzes or average scores for the quiz. 
Key Features Of BuzzFeed Quiz Builder WordPress Plugin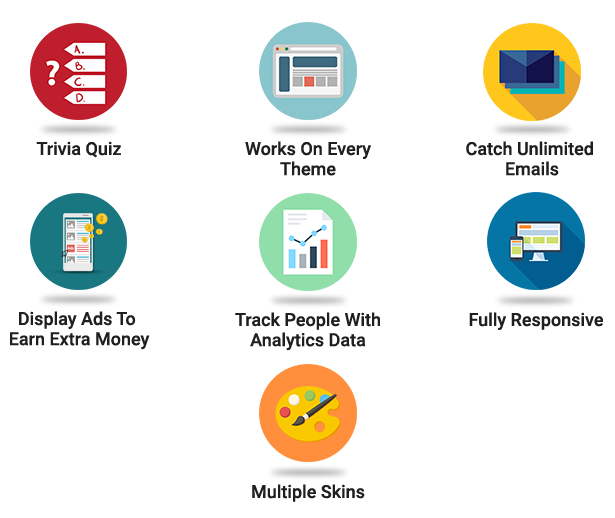 WordPress Quiz – BuzzFeed Quiz Builder Plugin features are designed to integrate seamlessly with your marketing strategy.
1. Works on every theme: Loads relevant scripts efficiently. Works best with all WordPress Themes.
2. Powerful Marketing Tool: Capture unlimited emails at the end of the quiz. 
3. Advertisement: Put ads around each quiz and refresh to earn money. Works well with WPAdcenter - WordPress Advertisement Management Plugin.
4. Quiz Types: Trivia Quiz with more types being built.
5. Track People: Works with Google Analytics. Understand visitors better with google analytics. See how many people play your quizzes, and analyze their responses
6. Responsive: Fully Responsive. Skins are developed to work with Mobile Devices. 
7. Multiple skins: BuzzFeed Theme and other modern themes included.
8. Random Quizzes : Enable Random Questions on the Quiz
9. Several pages per quiz: Have all questions on same page or have multiple pages
10. Monetization: Increase page views with the "browser refresh" feature
11. Customize Quiz: Apply your own styling to the Quiz
12. Unlimited questions, unlimited answers: No restrictions on Questions and Answers.
14. Notify: Email notifications about the scores. 
15. Create Unique landing page for sharing the results. Also attach your own lead generation forms or make a Squeeze Page after the Quiz.
16. Add attractive Photo or Video Answers. 
Start quizzing with WordPress Quiz - BuzzFeed Quiz Builder Plugin.  
---
Updates
Version 1.4 (29 June 2018)
*Added plugin menu for auto-update

Version 1.3.1 (10 November 2016)

Version 1.3 (28 January 2016)
* Fixed issue with adding question for WordPress V4.4.1

Version 1.2 (30 July 2015)
* Added multilingual support

Version 1.1
* Added auto-update ( Ability to receive update notifications and update the plugin from your dashboard)

Version 1.0
* First version of WP-Quiz