Top Features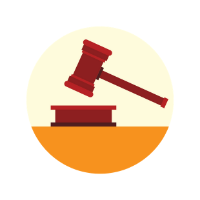 eBay style auctions
Setup an eBay style auction website on WordPress with responsive design. Make money by charging a fixed price for each listing submitted. You have the ability to auto approve or manually approve all the visitors in exchange for either a fixed listing fee or some % of the sales.
Penny Auctions
WPAucion will help you set up a penny auction. Setup a nominal or specific change for bids on auction listings. Visitors can maintain a credit balance or pay before they can bid on Penny Auction Listings.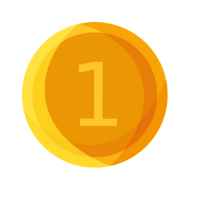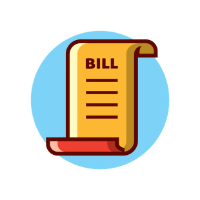 Internal invoicing
Whenever a seller has sold something successfully, the buyer who has won the item will receive an auto-generated invoice. The invoice contains all the payment terms and link for completing the payment. The entire process is automatic and super simple to follow.
Featured listing
You will also have an ability to set up a featured listing of items. The items are placed on the main page of the WordPress auction website for maximum visibility. These are a great way to showcase and generate views for listings.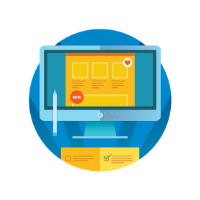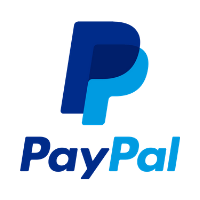 PayPal & Authorize.net integration
Apart from Stripe integration, WPAuctionSoftware is also fully compatible with PayPal and Authorize.net for hassle-free transactions. Just set up your account and start selling.
Full-Features
Fully responsive
eBay style auctions
Make online auctions easier with Proxy Bidding
Sell digital items - eBooks, Music, Videos
Make money with each bid - Like Penny Auctions
Schedule auctions on time of your choice
Security - Only registered users can bid
Supports Stripe Addon
Search by keyword
You can build an Advanced Auction Website for any type of business.
WPAuctionSoftware - Responsive WordPress Auction Plugin, comes with a lot of features and one of the most important features is the ability to embed auctions into a page of your WordPress site.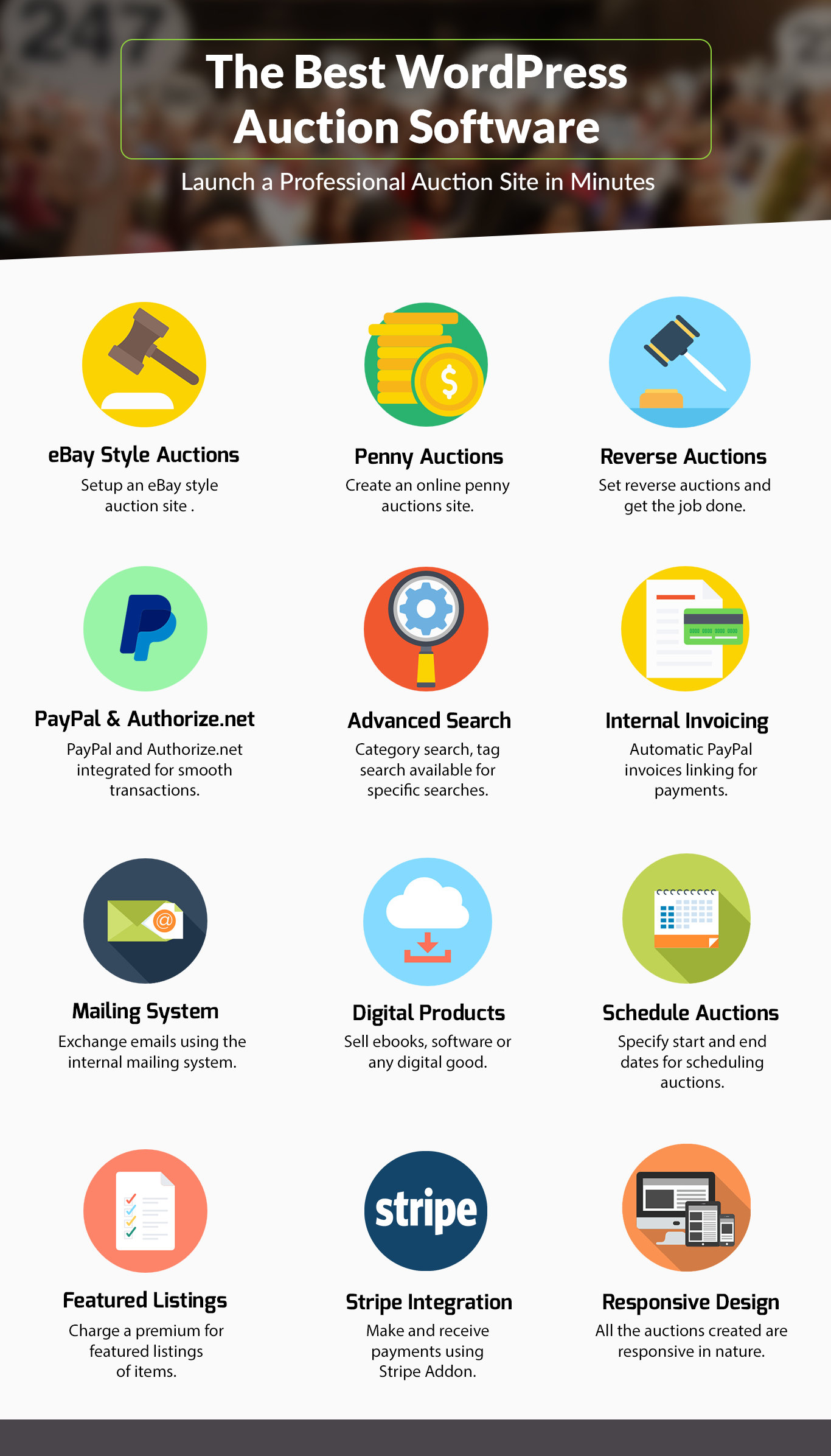 It's a complete Responsive WordPress Auction Plugin, which can be used for a whole range of Bidding or Auction Sites.
What can you do with the most popular Auction Plugin designed for WordPress?
---
Setup a Bidding Marketplace Like eBay
Sell your own Products
Make money with each bid - Like Penny Auctions
Make money by charging a fixed price for each listing submitted
Charge a commission for each successful sale by other sellers
Works with Popular Payment Gateways - Get money automatically for successful bids or new listings.
Charge for promoting the auctions - With premium views like Featured Auctions, Side View on all auction pages, you can charge the Auction Submitter a Fixed Fee
Development Services Available: WPEka Developers can modify the Plugin as per your Theme Layouts. Have your features implemented or get an entire setup done. Contact WPEka Support For Customization or Full Setup
You can use this WordPress Auction Plugin for creating WordPress Auction sites like:
---
Car Auction
Property Auctions
Art Auctions
and more!
A Complete list of WordPress Auction Plugin Features:
---
Easily Sell Items
Your visitors can sell items in eBay style auctions. They simply register, you can auto approve or manually approve them. They can list their items. You can charge a listing fee or % of Sale.
Digital Downloads 
Sell Digital Items like Music, eBooks, Videos and more. Sellers can make digital products available with a download link through the dashboard directly.
Multisite Compatible
You can work with WordPress Auction Plugin across your entire multisite network.
Buy Items
Not only can users sell items in the eBay style auctions, they can buy other items as well.
Standard Auctions
Run standard auctions. Your users can sell an item as a Standard Auction or list their item at a Fixed Price. You can also run a Penny Auction Site.
Payment Gateways
Works with PayPal, Authorize.net and Stripe. Just setup your accounts and start selling.
SEO Friendly URL's
All the Auction Item Pages and Links are search engine optimized.
Penny Auctions
Run your own Penny Auction website. This allows you specify a nominal charge for bids on auction listings. Users can maintain a credit balance or pay before they can bid on Penny Auction listings.
Internal Invoicing
When a Seller successfully sells an item, the Buyer who wins the item is automatically sent an invoice and that invoice includes the Payment Terms and link for completing the Payment.
Internal Communication System
Buyer and Seller can contact using the built in Communication system. You can enable this for enhanced communication between the users.
Seller Paypal Integration
Before a User can submit a listing, they have to enter their PayPal email address. This ensures that proper invoicing is sent to the Buyer of their products. It's all integrated and is a 4 step process.
Category Search
Users can drill through the Categories searching for specific items in the auction listings.
Advanced Search
Your users can search via a keyword search or drill down through the categories. They can also use a Tag Search.
Tag Search
Users can browse via the most used keywords (Tags) on the auction. A click of that Tag will show all the auctions that have those Tags (Keywords) in them.
Responsiveness
Your embedded auctions will have a responsive layout.
Featured Listings
Users can pay for Featured Listings where their listings will be featured on the main page of the WordPress auction site. These are the first auction listings that appear when you go to your auction site.
Sidebar Featured
Your users can also pay to have their auction listing appear on the sidebar of the site. You can see this in the demo. This can be turned off/on via the Admin Area.
Fixed Price Listings
Sell items at a fixed prices. With fixed price listings earn get consistent and worthwhile sales.
Security
WordPress Auction Plugin makes sure that only registered users can bid.
Stripe Addon
Stripe addon is now available for WPAuctionSoftware Plugin. Besides being PayPal & Authorize.net ready, WPAuctionSoftware can now support Stripe payments too.
Features of Stripe Addon:
Processes credit cards without sending clients to another site
Allows you to accept payments from customers anywhere in the world
Secure interaction with Stripe servers keeps your customers' data safe
Seamless checkout experience within your own site; means increased conversions & sales
Proxy Bidding
With this addon, you can now bid on two or more items being sold around the same time. Proxy bidding makes bidding an online auction easier and less time consuming for buyers.
Features of Proxy Bidding:
Allows automated bidding: Proxy bidding addon allows users to make an absentee while the bidding process is going on. The user does not have to keep bidding by himself as it will be done by an automated system
Saves Your Time: It saves a lot of time by playing a vital role of a proxy bidder. Proxies do the bidding on your behalf once the amount is fixed
Saves Your Money: The proxy bidding can save your money which you may have otherwise lost in the usual online auction