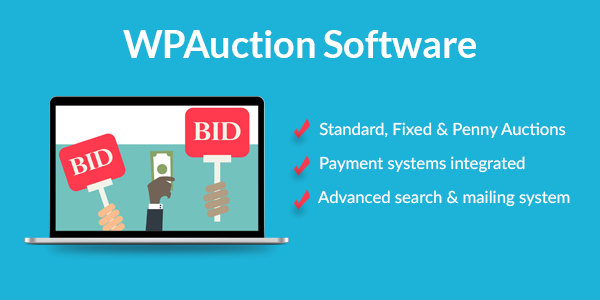 Build a Professional Auctions Site in minutes
WPAuctionSoftware the most powerful Auction Software application in the world. It is designed to build a WordPress auctions site in the shortest possible time.
It is an intuitive and responsive WordPress auction plugin and is the most affordable and reliable auction software provider.
Host Auctions on your site. Sell your products or let others sell their products and earn commission.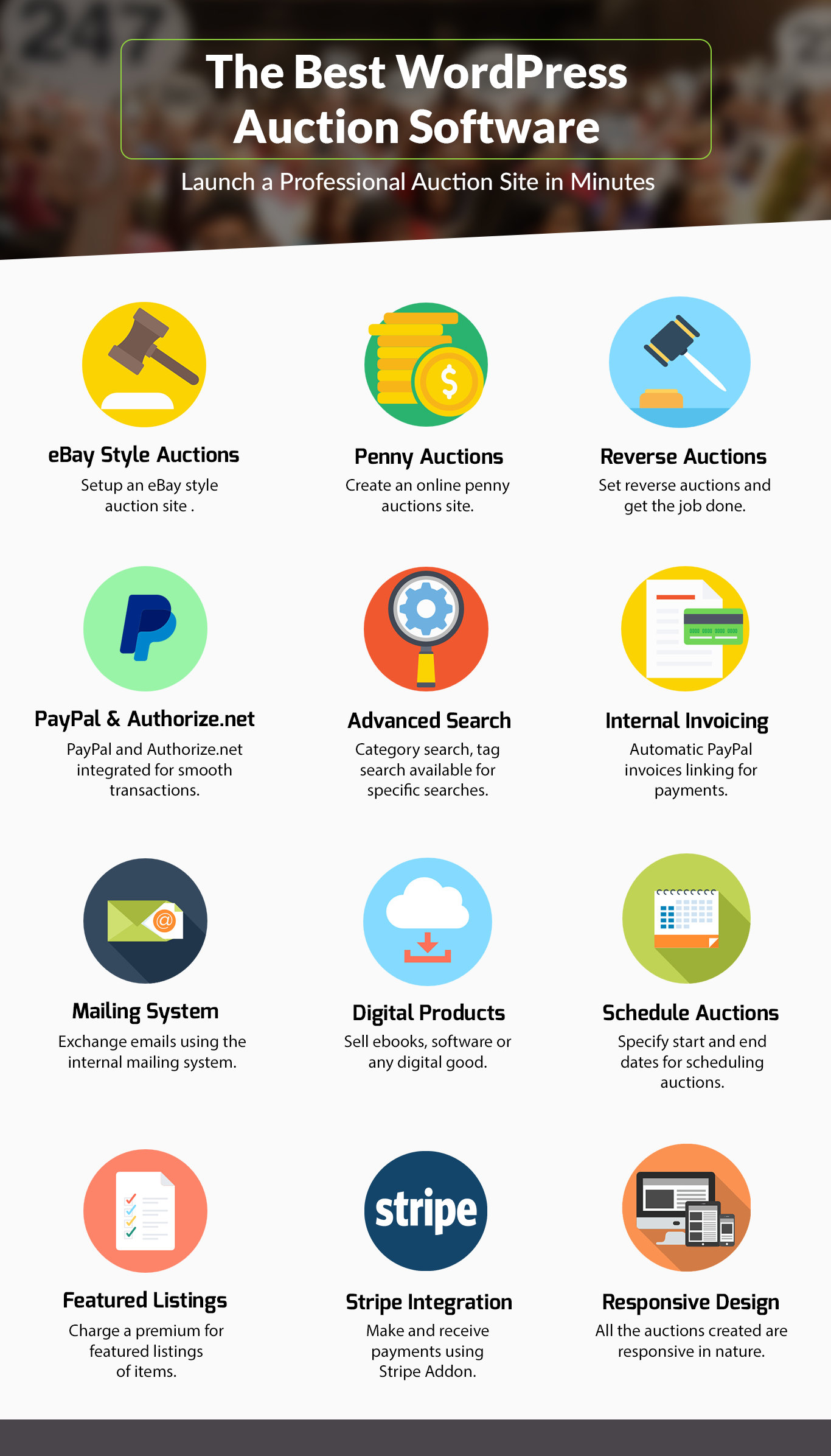 WPAuctionSoftware Plugin - Features
Sell Items
Users can sell items in eBay style auctions. They simply register, login and list their items and because it's PayPal ready, they can pay for their listing and you take your percentage.
Digital Downloads 
With WPAuctionSoftware, sellers can make digital products available with a download link through the dashboard directly.
Multisite Compatible
You can work with WPAuctionSoftware across your entire multisite network.
Buy Items
Not only can users sell items in the eBay style auctions, they can buy other items as well.
Standard Auctions
Run standard auctions. Your users can sell an item as a Standard Auction or list their item at a Fixed Price. You can also run a Penny Auction Site.
Authorize.net
Besides being PayPal ready, we now have Authorize.net integrated into the auction software. You can use either PayPal or Authorize.net.
SEO Friendly URL's
With version 2.7, all the links are now SEO Friendly. Also, any time a new listing is created, the title of the listing is now SEO Friendly.
Penny Auctions
Penny Auctions are very profitable and now you can run your own Penny Auction website. This allows you to charge for bids on auction listings. Users must fund their account before they can bid on Penny Auction listings.
Internal Invoicing
When a Seller sells an item then the Buyer who wins the item is automatically sent an invoice and that invoice includes the Sellers Paypal information. The invoice also includes the link for payment via PayPal.
Internal Email
Your users can email each other with our enhanced Internal Email system. All the features you need in an Internal Email System.
Seller Paypal Integration
Before a User can submit a listing, they have to enter their PayPal email address. This ensures that proper invoicing is sent to the Buyer of their products. It's all integrated and is a 4 step process.
Category Search
Users can drill through the Categories searching for specific items in the auction listings.
Advanced Search
Your users can search via a keyword search or drill down through the categories. They can also use a Tag Search.
Tag Search
Users can browse via the most used keywords (Tags) on the auction. A click of that Tag will show all the auctions that have those Tags (Keywords) in them.
Responsiveness
Your embedded auctions will have a responsive layout.
Featured Listings
Users can pay for Featured Listings where their listings will be featured on the main page of the auction site. These are the first auction listings that appear when you go to your auction site.
Sidebar Featured
Your users can also pay to have their auction listing appear on the sidebar of the site. You can see this in the demo. This can be turned off/on via the Admin Area.
Fixed Price Listings
Sell items at a fixed prices. With fixed price listings earn get consistent and worthwhile sales.
Stripe Addon
Stripe addon is now available for WPAuctionSoftware Plugin. Besides being PayPal & Authorize.net ready, WPAuctionSoftware can now support Stripe payments too.
Features of Stripe Addon:
Processes credit cards without sending clients to another site
Allows you to accept payments from customers anywhere in the world
Secure interaction with Stripe servers keeps your customers' data safe
Seamless checkout experience within your own site; means increased conversions & sales
Proxy Bidding
With this addon you can now bid on two or more items being sold around the same time. Proxy bidding makes bidding an online auction easier and less time consuming for buyers.
Features of Proxy Bidding:
Allows automated bidding: Proxy bidding addon allows users to make an absentee while the bidding process is going on. The user does not have to keep bidding by himself as it will be done by an automated system
Saves Your Time: It saves lot of time by playing a vital role of proxy bidder. Proxies do the bidding on your behalf once the amount is fixed
Saves Your Money: The proxy bidding can save your money which you may have otherwise lost in the usual online auction
Updates
---
Version 5.6.6 (22 December 2016)
-------------------------------
Added: Integrated with wp-updates for auto update notification on admin dashboard
Updated: Made WPAuctionSoftware Plugin responsive
Fixed: Solved pagination issue on homepage
Fixed: Changed button text "Invoice Sent" to "Submit"
Updated: Made Compatible with WordPress 4.7
Updated: New and improved auctions layout

Version 5.6.2 (28 October 2016)
-------------------------------
Updated: Compatibility with PHP 7.0
Added: Minimum bid increment field per auction

Version 5.6.0 (16 September 2016)
-------------------------------
Updated: Changed look and feel of timer

Version 5.5.9.1 (4 February 2016)
-------------------------------
Fixed: Issue with sidebar
Added: Import auctions feature

Version 5.5.8 (14 January 2016)
-------------------------------
Added: Email template for bid notification

Version 5.5.7 (19 November 2015)
-------------------------------
Added: Relisting option for sold items

Version 5.5.6 (6 August 2015)
-------------------------------
Updated: Made compatible for proxy bidding addon
Updated: Home page made responsive

Version 5.5.5 (20 July 2015)
-------------------------------
Updated: Made compatible for multiple payment gateways
Added: Multi-language support added, WP Auction can be setup in multiple languages
Updated: Redesigned backend/admin panel
Added: Help text to plugin settings

Version 5.5.3 (29 May 2015)
-------------------------------
Fixed: Bugs related to date pop-pup at backend and Fatal error while placing Bid on Penny auction at frontend
Updated: Look and feel of frontend and backend of the plugin

Version 5.5.1 (10 April 2015)
-------------------------------
Fixed: Bug Fix for auctions/items not showing in PHP version 5.5 (No data found)

Version 5.5 (5 March 2015)
-------------------------------
Added: Ability to increase the Auction End Time to Prevent Auction Bid Sniping 

Version 5.4 (13 February 2015)
-------------------------------
Updated: WPAuctionSoftware uses WordPress cron job. No need to setup server cron job.

Version 5.3 (30 January 2015)
-------------------------------
Updated: Special characters can be used
Added: Enable/disable visibility of reserve price

Version 5.1 (19 December 2014)
-------------------------------
Added: Option to set start date and time and end date of auctions

Version 4.0 (19 September 2014)
-------------------------------
Added: Option to enable delivery of digital products from dashboard

Version 3.0 (25 July 2014)
-------------------------------
Updated: WordPress Multisite Compatibility. Auction Network Sites can be created.
Updated: FancyBox Library updated to latest version

Version 2.8 (13 June 2013)
-------------------------------
Added: Option to activate Penny Only type of Auctions
Updated: Large files handling function useful for Digital Goods and Items Auction Setup
Added: SEO Friendly Permalinks for all menu items & new auction listings
Added: Penny Auction Feature 
Updated: Performance optimization for faster loading of Auction Pages
Added: Authorize.net Payment Processor introduced in WP Auction Plugin

Version 2.5 (05 April 2013)
-------------------------------
Deprecated: Improved HTML5 compatibility with some WordPress Themes
Added: Admin Only Ads that allows only the admin to post ads and lets all registered users bid on the admin items
Added: New Featured Category and Featured Ads listing at the top of the Auctions page
Updated: Paypal Auction Email ID Optional to submit a listing.

Version 2.3 (23 May 2012)
-------------------------------
Added: Internal Payment Invoice System introduced into the Plugin.


---