Coming up with a blog or a business website can be quite exciting. If your website is asking people to subscribe, selling products or services, providing valuable information, or setting up Google Analytics. In any of the cases, creating legal pages would be a wise decision.
WPLegalpages has been downloaded more than 10,000+ times on worpress.org  and increasing as you read this. It is widely used plugins out there. Equipped with a variety of cool features, it's going to make the process seamless for you.
How Can WPLegalPages Help You?
Equipped with a fantastic set of features and 25+ Policies, this plugin by WPeka is here to take away all of your worries.
Of course, writing content for a legal page is not a cup of tea for everyone. Moreover, a majority of people aren't even aware of what goes into these pages, unless they browse through examples available on the internet.
However, this plugin eliminates the need to write content and curate pages on your own. WPLegalPages offer you more than 25 inbuilt templates that have been designed under the guidance of experts and by keeping internet laws and protocols in mind.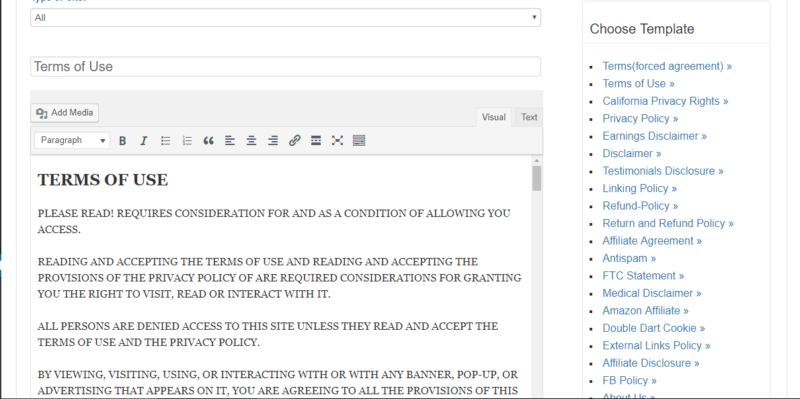 25+ Policy Templates for WordPress websites
WPLegalPages comes with 25+ policy page templates. These include:
Terms of Use
Terms and Conditions
Privacy Policy
Linking Policy
Blog Comments Policy Template
Affiliate Agreement
Affiliate Disclosure
Amazon Affiliate Disclosure Template
External Links Policy
DoubleClick DART Cookies Policy
Refund Policy for ecommerce stores
Digital Goods Refund Policy
Returns and Refund policy
Antispam policy
Facebook Privacy Policy
Earnings Disclaimer
Medical Disclaimer Template
Disclaimer Template
FTC Disclaimer Widget
Testimonials Disclosure – As per FTC guidelines
California Privacy Rights Policy Template
DMCA Policy Template
COPPA – Children's Online Privacy Policy Template
Newsletter Subscription Policy and Disclaimer Template
FTC Disclosure Statement Template
As mentioned in the picture above, you can easily find template options on the right side of this WordPress privacy policy plugin, whenever you create a legal page. Moreover, these templates are easy to edit as well. Hence, tweaking the already available information to make it relevant to your business will not be arduous for you.
Getting away from monotonous pages, WPLegalPages as WordPress privacy policy plugin also provides you with an option to create and setup functional popups to show different legal pages, including privacy policy and forced agreements. Moreover, since these popups are responsive, they can be displayed on every screen size.
You can either use shortcodes to use popup templates-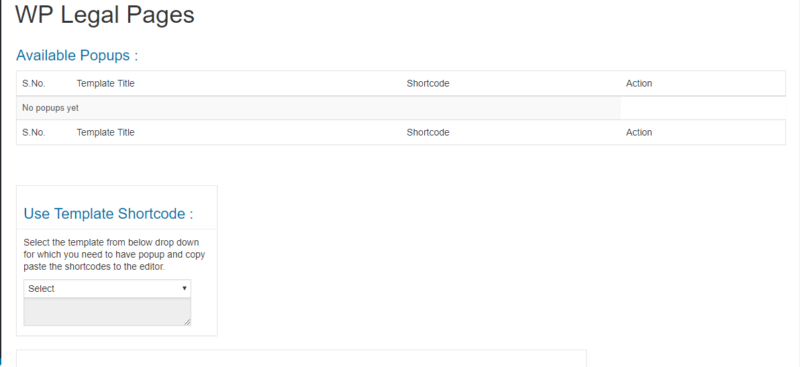 Or, can code popups on your own as well-

Whether you're collecting data from your visitors or running adverts on your website, in either of the cases, it's essential for you to follow the EU Cookie law so as to stay away from the legal troubles that may arise in the future.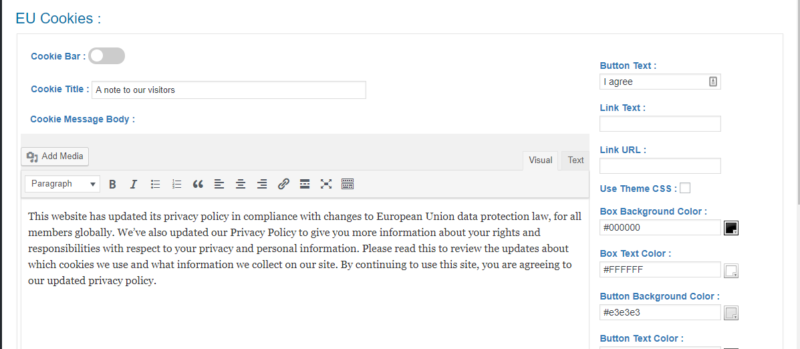 WPLegalPages come with an independent template that follows this law. Through this, you can create a relevant page and keep your visitors updated regarding your policies.
Setting Up WPLegalPages:
When it comes to installing, activating, and using this legal page generator, the process is pretty simple and straightforward. Follow these necessary steps, and you're almost done.
Installation & Activation:
Setting up this WordPress privacy policy plugin is as smooth as it can get. Once you've got your .zip file, all you'd have to do is install it in your WordPress dashboard, and you're ready to use it-
Go to Plugins
Click on Add New from the extended menu
Click Upload Plugin
And, upload the downloaded .zip file
Click on Install Now

Your plugin will be activated instantly.
Once the plugin has been activated, then is the time to set up the plugin as per your requirements:
Click on Legal Pages option available on the left side in the WordPress dashboard
Choose Settings from the extended menu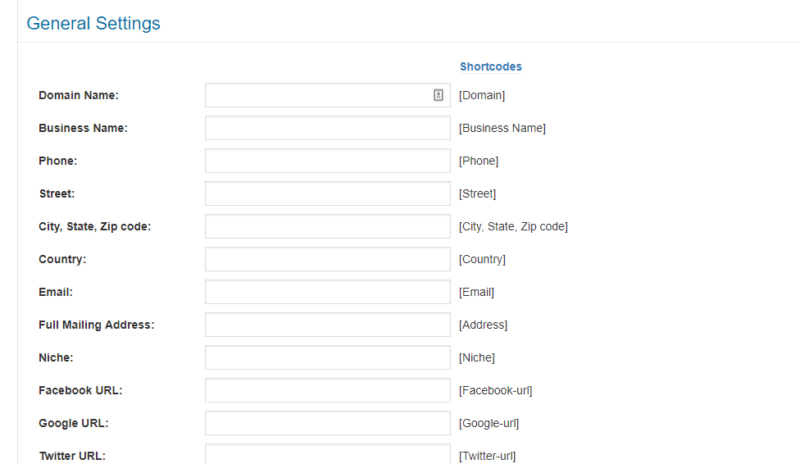 From here, you can edit and tweak the settings however you'd require
Now comes the exciting part - creating a variety of legal pages:
Click on Legal Pages
Choose Create Page from the extended menu
Choose the Type of Site for which you need a legal page


Once done, you can choose the required template, edit the content, and hit the Publish button.
Importance of Making the Website Compliant with Laws:
The world wide web is impacted by several laws and norms. And, the only way to comply with them is by displaying respecting privacy on your website.
What WPLegalPages can be used for
Your website would contain original content in different forms. Be it text, images, or videos, right?.  Including a copyright notice can protect your site from being attacked by plagiarists.
Establishing Transparency:
If your website is collecting data from users. Whether in the form of personal information or cookies. Having an adequate policy page on the site helps to establish transparency between your business and users.
By having terms and condition page on the website, you tell your users about what is allowed and what isn't allowed on your site.
Penalties for Not Complying with Internet Laws:
Across the world, the rules are different, and their demands differ as well. Being a website owner, your responsibility just doesn't end by understanding the types of legal pages available out there. However, you must also be wary of the penalties that you may have to face in case you fail to put up to the laws of the internet.
So, here are some of the fines that you may have to bear if you don't adhere to the laws:
The EU Data Protection comes with the fine of up to £500,000 for serious breaches
With the introduction of the latest EU General Data Protection Regulation (GDPR) the penalties for non-adherence with the law can be up to 4% of the global turnover
Use WPLegalPages as your ultimate WordPress Privacy Policy Plugin. Establish transparency between you and your customers.