WP Legal Pages Pro is a Privacy Policy Generator WordPress Plugin.
WP Legal Pages makes it easy to generate and add legal policy pages to your WordPress websites. Just enter your business details & click save to generate 25+ legal policy pages for your WordPress website.
WP Legal Pages reviewed on wpmayor.com
"If you have been spending sleepless nights wondering if your site is compliant with all the policy content that your Ad Networks or Affiliate Vendors expect, then all you need to do is grab a copy of WP Legal Pages & rest easy."
California Privacy Policy (CCPA) - 2020
Generate the 2020 compliant CCPA & CalOPPA privacy policy. This policy helps you comply with the California Consumer Privacy Act resolution.
Updated: Terms & Privacy Policy Generator Wizard
Use our new Guided Wizard style interface to generate complex policy pages in a just a few clicks.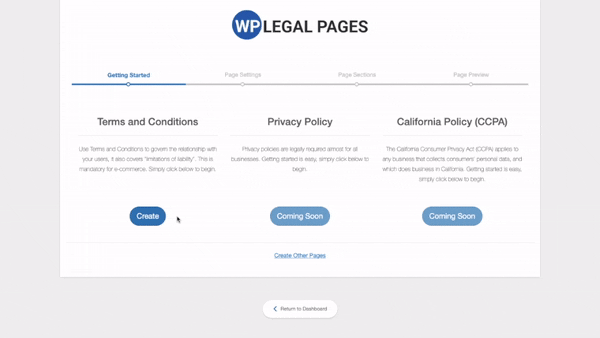 Updated: Forced Agreement (Consent)
Get users to agree to your terms, privacy or any other other policy before they can view a page on your website using modal popups.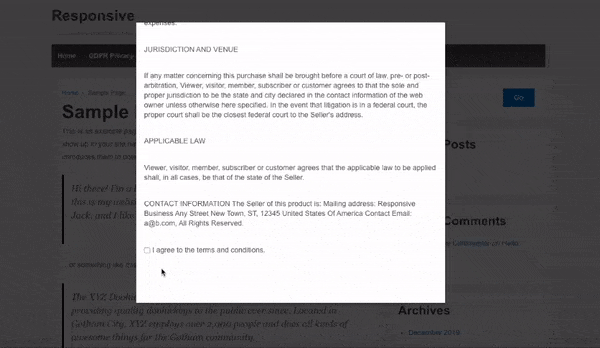 "WP Legal Pages is a dead-simple WordPress Plugin that helps you set up legal policy pages for your WordPress website, in less than 5 minutes."
wplift.com
Save hours of work & hundreds of dollars in consultation fees
Set up 25+ expert vetted Legal Policy pages in one-click including…
Why Users ❤️ WP Legal Pages Pro?
"It was a doddle to install. There were no surprises on activation. I added the plugin and created the 4 policy pages on 3 test domains in just under 12 minutes."
Sadie
"Great idea and time saver. I had to get it. I already install it and edit the pages on one of my sites. It was super easy to install and edit."
Julio Mario
"It's a very intuitive and super fast plugin to setup and implement. In just a few steps, I had a complete set of legal pages on my sites."
Kate Saunders
"WPLP makes it really easy to make the legal pages that are becoming more and more required. The templates that are built into it are definitely great and I like the short codes as well."
Adam Teece
"If you are in the business of building out sites for clients or affiliate sites for yourself, this will save a ton of time creating these necessary pages and keep your butt out of legal trouble."
Ty Bohanon
WP Legal Pages Pro Templates
All WP Legal Pages Pro Features
Need GDPR Compliance For Third-Party Cookies?
WP Legal Pages creates policy pages that you can edit just like normal WordPress posts and pages. To comply with the GDPR cookie policy, you'll need to add a third-party cookie audit table to your privacy or cookie policy page.
You can do this by using a cookie scanner plugin that generates a cookie table of all cookies set by the softwares used on your website. We recommend that you use the WP GDPR Cookie Consent Plugin which can easily and  automatically insert the required 3rd party cookie details on the policy pages generated using your WP Legal Pages Plugin.
Yes, You can choose any existing Privacy Policy created to appear in a Popup. 
Yes, In the Popup settings, you can enable the privacy policy as mandatory to be accepted before the visitor can browse. 
Yes, When using the Wizard to generate the privacy policy, you can select that your website runs Google Ads. This will generate the relevant clauses for Google Adsense. This is also applicable for Google Ads (Adwords).
= Version 8.0.6 (14 February 2020) = 
- Feature: Privacy Policy Generator WordPress Wizard to create customised Privacy Policies for different types of business websites.

= Version 8.0.5 (10 February 2020) = 
- Update: Templates and minor plugin updates.

= Version 8.0.4 (31 January 2020) = 
- Feature: Added Disclaimer templates for French and German Translations.

= Version 8.0.3 (14 January 2020) = 
- Feature: French and German Translations for Privacy Policy Generator WordPress Plugin.

= Version 8.0.2 (20 December 2019) = 
- Update: Improved compatibility with WordPress 5.3.2.

= Version 8.0.1 (18 December 2019) = 
- Feature: Wizard to create custom CCPA (California GDPR) policy template page.

= Version 8.0.0 (17 December 2019) =
- Feature: Wizard to generate custom Terms & Conditions/ Terms of Service pages for different WordPress sites (Blog, SAAS, eCommerce).

= Version 7.7 (10 December 2019) = 
- Feature: Generate California Consumer Privacy Act - CCPA Policy - 2020 compliant.

= Version 7.5 (30 September 2019) =
- Update: Code quality updates as per WordPress standards.
- Fix: Update option to exclude legal pages from search.
- Update: Improve W3C HTML compliance.

= Version 7.3 (11 September 2019) =
- Update: Tested compatibility with WordPress 5.2.3.

= Version 7.2 (03 September 2019) =
- Fix: Legal pages template edit issue.
- Fix: Minor design fixes for Legal Pages Popup (Privacy policy in popups).

= Version 7.1 (28 August 2019) =
- Fix: Autoupdates for Legal Pages plugin.
- Fix: Filter for Legal Template count.
- Fix: Minor fixes in Generation of Affiliate Agreement.
- Fix: Shortcode integration issue in popups for WP pages.

= Version 6.1 (24 July 2019) =
- Features: GDPR Cookie Policy Generator and GDPR Privacy Policy Generator.

= Version 6.0 (15 July 2019) =
- Updated: Generation functionality for Amazon Affiliate Policy.

= Version 5.9 (21 June 2019) =
- Updated: Admin menu for Cookies.
- Updated: Made compatible with WordPress 5.2+.

= Version 5.8 (7 May 2019) =
- Updated: Seamless integration with WP Legal Pages Cookie Consent Plugin Addon.

= Version 5.7 (15 March 2019) =
- Added: Editor for Age Verification content (Admin side) =
- Added: New option for Age Verification (Buttons) =

= Version 5.6 (26 October 2018) =
- Fixed: activation issue

= Version 5.5 (10 September 2018) =
- Added: Template of Confidentiality Disclosure

= Version 5.4 (27 August 2018) =
- Added: Feature of age verification

= Version 5.3 (21 June 2018) =
- Added: Auto update for future = Versions
- Added: Template for cookie policy

= Version 5.2 (24 May 2018) =
- Updated: EU cookie template and Privacy policy template

= Version 5.1 (08 Dec 2017) =
- Added: Template - Returns & Refund Policy
- Updated: Compatible with WordPress v4.9.1
- Updated: Compatible with PHP v7.0