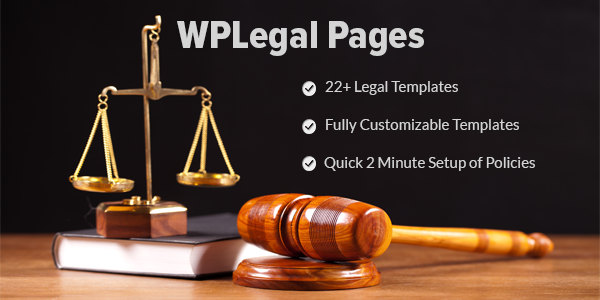 WPLegalPages comes with 25 ready-to-use legal templates for your WordPress site.
Do you know a mistake which over 87% of websites are doing? They don't have proper legal pages on their websites. WPLegalPages is a powerful WordPress Privacy Policy Generator with a complete range of Legal policies for your WordPress website. For, e.g., Agree to Terms and Conditions, Affiliate disclaimer generator and more.
Moreover, without proper legal pages, you cannot display Google Ads on your site. In addition, ClickBank will reject you from listing your products on their site? That's why this WordPress Privacy Policy Generator Plugin is must for any WordPress site.
Automated Privacy Policy Plugin Features
Powerful WordPress Plugin
Easy-To-Use: Quickly install this WordPress Legal Policy Plugin. Within 2 minutes you can setup and start adding legal pages to your site. You can use the pre-made templates from this WordPress Privacy Policy Generator and just fill in your business' information and just publish it. You'll have your legal pages up in minutes!
Forced Page/Post Options
WP LegalPages plugin has a forced feature which forces the website visitor to agree to your Terms, Privacy Policy or any legal page you want them to. As a consequence, this helps you to lock down the features of your site to improve privacy. This feature can be used for both pages and posts on your WordPress site.
Extended Menu Options
Normally, all the legal pages on a website are displayed in the footer. With the extended menu options, you can quickly remove pages from your header menu to the footer menu. You can also exclude/include any legal page you created using custom menus.
Easy To Edit Pages
Simple, easy to use admin dashboard. The pages you create will show up in the page listings and are easy to edit just like normal WordPress pages. You also have full WYSIWYG editor and tiny MCE options to edit any template easily.
Custom Shortcode Integration
Shortcodes are time savers, and we have integrated them heavily in this plugin. Once you have edited a legal page template, not only the template content but your business information will also be added in the shortcode. For custom templates also, you will be provided with shortcodes, so you don't have to copy the whole template repeatedly.
Pre-built Legal Templates
This plugin includes all the most-used legal pages. There are currently 25 built-in templates that are lawyer approved and adhere to all the internet laws. There is a provision for you to create your own legal pages or make changes to any existing templates as per your website's needs. It also has an option for the latest EU Cookie Law to be added.
Responsive Popups
The plugin allows you to add popups for displaying the legal pages or for forced agreement. These popups are responsive and can be viewed on any device.
EU Cookie Law
WPLegalPages follows the EU Cookie Law. You have the provision to tell your readers about the cookies being used by your site and what information it stores.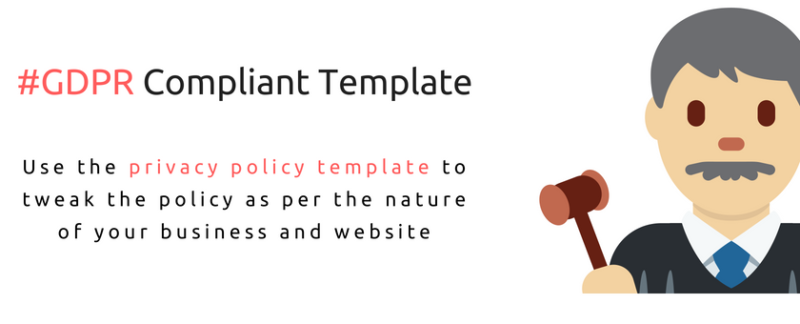 This WordPress Privacy Policy Generator Comes with the following legal templates:
Terms of Use (Users are Forced to Agree to Terms and Conditions - Before Using Site)
WordPress privacy policy GDPR
Linking Policy
External Links Policy
Terms and Conditions Template
Affiliate Disclosure Template
Privacy Policy Template
Affiliate Agreement Template
Facebook Privacy Policy
Earnings Disclaimer
Antispam
DoubleClick DART Cookies Policy
Disclaimer Template
FTC Disclosure Statement Template
Testimonials Disclosure - As per FTC guidelines
Amazon Affiliate Disclosure Template
DMCA Policy Template
California Privacy Rights Policy Template
Digital Goods Refund Policy Template
COPPA - Children's Online Privacy Policy Template
Blog Comments Policy Template
Newsletter Subscription Policy and Disclaimer Template
FTC Disclaimer Widget
FAQ
Are privacy policies required by law?
As the term "legal policy" comes, you know there is some sort of legal authorities involved. Not to mention, these legal policies are required by some of the other legal authorities, and you have to adhere to them to work legally. This WordPress Privacy Policy Generator create policies to keep you out of these legal matters.
Let's understand,  why you need WordPress privacy policy page?
Why is privacy policy required?
Privacy Policy is a legal document that details the company's views and procedures on the information collected from visitors. It is required by law to tell the visitors what you are going to do with the collected information. So, if you are collecting any user information like email address, name, etc. you are required to have a privacy policy on your site.
Why is Terms and Conditions policy required?
Terms and Conditions policy is also a part of this WordPress Privacy Policy Generator plugin, it contains the guidelines on how to use the website content, products or services if any. This policy protects you from any misuse of your website data, and it is highly important.
Why is Refund Policy required?
If you have an eCommerce site where you sell products or any services, a refund policy is required. This policy explains the conditions of getting a refund to customers. It also helps you protect an unnecessary refund which is out of your refund policy.
Why is the Affiliate Agreement policy required?
An Affiliate Agreement policy is required if you have an affiliate program at a place. It is an agreement which has terms and conditions for an affiliate before he/she join your affiliate program.
Why is Amazon Affiliate Disclosure or simple Affiliate Disclosure policy required?
If you are an affiliate, you have to have affiliate disclosure policy on your site. With help from this WordPress Privacy Policy Generator, you can generate this policy in no time. Moreover, it discloses the use of affiliate links on your site and that you will earn a commission if any sales happen. FTC requires you to have an affiliate disclosure if you have affiliate links on your site.
Why is California Privacy Rights policy required?
California Privacy Rights is a policy that is specifically drafted for the residents of California state. It empowers Californians to protect their privacy and encourages business to follow best practices to protect user information. So, if you deal with residents of California or have a business in California, the State of California Department of Justice requires you to have this policy on your site.
Why COPPA - Children's Online Privacy Policy is required?
This WordPress Privacy Policy Generator will be incomplete without COPPA. COPPA policy is required for those websites which have to deal with children under the 13 years of age. As a matter of fact, It details out how the website operators are going to use the information collected from children below 13 years.
Why is the Earnings Disclaimer Policy required?
Earnings Disclaimer Policy is mostly required to protect your claims and opinions which you have made about your product or service. Ultimately, people might say that you have provided examples and success stories of users, but some might not get the same results. In those cases, earning disclaimer is required.
Updates
---
Version 5.3 (21 June 2018)
-------------------------------
- Added new feature of auto update
- Added new template for cookie policy
- Fixed bug: Unable to create legal pages for the subdomain

Version 5.2 (24 May 2018)
-------------------------------
- Updated EU cookie template and Privacy policy template 
(Please take a backup of Cookie message body in Legal Pages - EU Cookies and Privacy policy template if you have updated these at your end)

Version 5.1 (08 Dec 2017)
-------------------------------
-Added new template - Returns & Refund Policy
-Made compatible with WordPress v4.9.1
-Made compatible with PHP v7.0

Version 5.0.5 (05 May 2017)
-------------------------------
-Fixed minor issues

Version 5.0.4 (05 April 2017)
-------------------------------
-Integrated with wpeka update server for auto updates

Version 5.0.3 (24 Feb 2017)
-------------------------------
-Fixed minor bug

Version 5.0.2 (20 Feb 2017)
-------------------------------
-Fixed Edit template bug

Version 5.0.1 (3 Feb 2017)
-------------------------------
Added: Added FTC Disclaimer Widget

Version 5.0.0 (23 January 2017)
-------------------------------
Updated: Made compatible with WordPress 4.7.1

Version 4.27 (22 December 2016)
-------------------------------
Added: Integrated with wp-updates for the auto-update notification on the admin dashboard.
Added: Added New Template Newsletter: Subscription and Disclaimer.

Version 4.26 (23 November 2016)
-------------------------------
Added: Added feature in EU Cookie Bar to use theme's CSS
Updated: Removed Update Checker Code

Version 4.25 (11 November 2016)
-------------------------------
Added: Blog Comments Policy Template and optional credit
Added: Added Validation for the button text of EU cookie policy
Added: Set default button text of EU Cookie Policy to I agree
Deprecated: Remove notice message from EU Cookie Policy box
Updated: WordPress function for form validation
Updated: Replaced fancybox with thickbox to prevent conflict with themes using fancybox

Version 4.23 (21 October 2016)
-------------------------------
Added: Children's Online Privacy Policy Template - COPPA
Added: Digital Goods Refund Policy Template
Updated: Made compatible with PHP 7.0
Fixed: Minor issues with Terms of Use (Forced User Policy) Popup

Version 4.21.3 (30 Sep 2016)
-------------------------------
Added: Affiliate Disclosure Template
Updated: Design changes on settings page
Added: California Privacy Rights Template
Updated: Change Design of EU Cookies admin and frontend.
Fixed: Minor alignment for create page.

Version 4.13 (25 Aug 2016)
-------------------------------
Added: DMCA Template

Version 4.12.2 (1 July 2016)
-------------------------------
Updated: Changed dashboard look and feel

Version 4.12 (21 Apr 2016)
-------------------------------
Added: Widgets for legal pages

Version 4.11 (29 Jan 2016)
-------------------------------
Added: Print option for legal pages

Version 4.10 (17 Dec 2015)
-------------------------------
Added: More customization options (Text color, button text color) for color palette in the EU Cookie Legislation

Version 4.9 (26 Oct 2015)
-------------------------------
Added: New feature to show Published Pages in Footer

Version 4.8 (10 Sept 2015)
-------------------------------
Added: Social icons & map integration on Popup Pages
Fixed: Security Fix: Input data sanitized for better security
Fixed: Minor FancyBox popup Alignment

Version 4.6 (27 March 2015)
-------------------------------
Added: About us Template
Added: Corrected typo's in templates: external-links, linking-policy.
Updated: Notification method changed (Admin will get the notification on click)
Fixed: Social layout issue in about us Template

Version 4.4 (20 Feb 2015)
-------------------------------
Added: Update Notifier.
Added: New setting to enable/disable comments on legal pages
Added: Admin now have an ability to disable comments for all the Legal Pages.

Version 4.3.5.1 (16 Jan 2015)
-------------------------------
Added: Feature - Visitors will be forced to confirm that he/she is above his/her country's legal age limit.

Version 4.3.4 (31-Oct-2014)
-------------------------------
Fixed: Multisite compatibility issues

Version 4.3.3 (25-Jun-2014)
-------------------------------
Added: Popups made responsive to work with different mobile devices

Version 4.3.2 (30-May-2014)
-------------------------------
Added: Color palette added in the EU Cookie Legislation Popup to customize the popup to make it elegant as per colors used on the WordPress site.
Added: Feature added to exclude legal pages from search. Option on no-index such pages from Google Search
Added: Feature to customize the EU cookie button design for EU Cookie Policy Message Bar

Version 4.3 (11-Apr-2014)
-------------------------------
Added: Minor Fixes on Privacy Policy Templates to make them compatible with WordPress version 3.8.2.

Version 4.0 (23-Jan-2014)
-------------------------------
Added: Update For EU Cookie Privacy Policy to adhere to the EU Cookie Legislation
Added: Improved security to prevent directory browsing of templates

Version 3.2 (04-Jul-2013)
-------------------------------
Fixed: Display issues for Facebook Policy Template 

Version 3.1 (07-May-2013)
-------------------------------
Updated: Support multisite network. Customers had requested to Use Privacy Policy Templates on WordPress Network Sites.

Version 3.01 (12-Mar-2013)
-------------------------------
Added: New sub-menu 'Legal pages' to display all WordPress Legal Policy Pages
Added: 'Notes' field to Privacy Policy Templates which is only visible to site admin


---