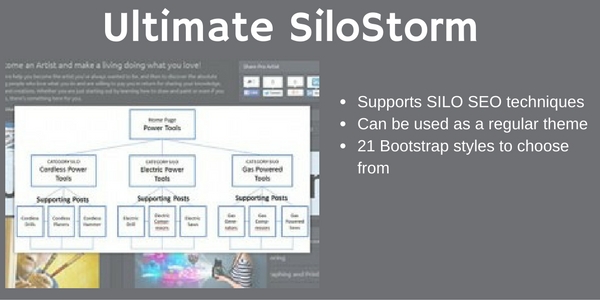 Build WordPress websites with Ultimate SiloStorm - WordPress Silo Theme based on the unique SILO SEO techniques and maximize the internal linking power of your content!
Do you want to survive each update the Google rolls out?
You need to give Google what it needs!
What exactly does Google need, you ask? It needs RELEVANT content on each and every page it crawls!
In this competitive world, how can your produce content that's unique and relevant??
The answer to this is SILOING!
What is the Silo SEO technique and why you should care?
The way your site is structured affects your SERP positions. If you learn to leverage the Silo SEO technique, you will be able to rank your site for hundreds of keywords.
The Silo SEO technique helps in creating strong keyword themes that assist in ranking higher for lots of keywords. It does so by structuring a website in a way that it is better accessible by the search engines and therefore ranked higher.
Below is an excellent example of the Silo SEO Architecture: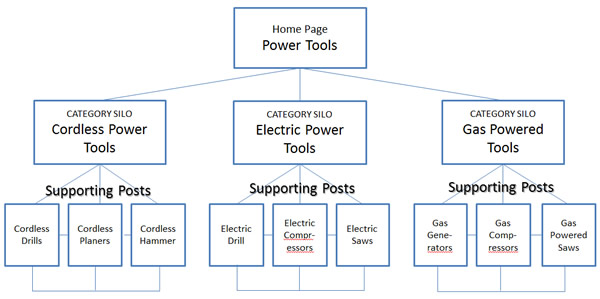 Google supremo Matt Cutts vouches for Siloing: 
"Check and make sure that you have a good architecture, you've got a homepage with well linked static links going to the individual pages of your site, something like a tree like structure that leads to the individual pages can be good, make sure that the pages that are important are just maybe one or two links from your Home Page so that the page rank is still relatively high there."
Source – YouTube
(That's what a well-silo'ed website does.)
But..but..but..
There's a major problem with WordPress.
Many WordPress themes automatically include linkages which will BREAK all the attempts at creating Keyword Themed Silos.
The links to a tag, category, author, date archives weaken valuable internal linking amongst non-relevant pages. Sidebar widgets such as Recent Posts will ruin all your attempts to create silos as they have no context to your post content.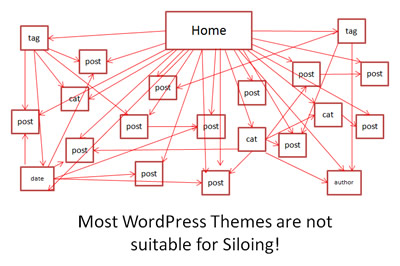 ULTIMATE SILOSTORM IS THE PERFECT WORDPRESS SILO THEME 
SiloStorm provides you with the tools which are needed to create Keyword themed Silo Websites and solve all the Silo troubles that WordPress has our way.  You will not need to install and configure complex plugins. It's compatible with regular Categories and Posts or with the WordPress page Hierarchy.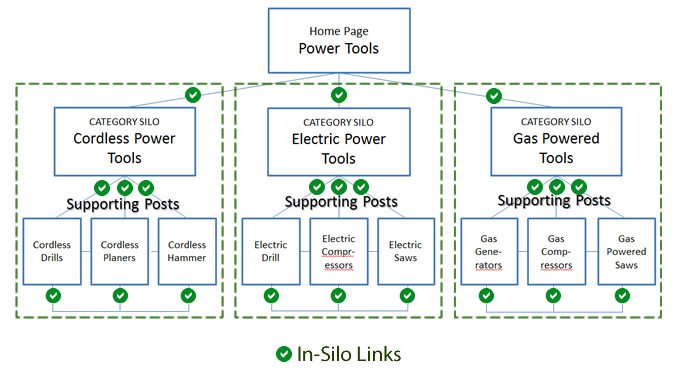 Key Features of WordPress SEO Silo Theme:
Supports SILO SEO techniques
Can be used as a regular theme
21 Bootstrap styles to choose from
Custom CSS
9 Ad widget positions
Updates
Version 1.7.3 (1 Dec 2015)
* Added feature to limit number of related posts to display in Sidebar on posts/homepage/category page
* Added feature to disable post navigation on posts
Version 1.7.2 (3 Nov 2015)
Fixed issues of extra </a> tag being generated for categories in the breadcrumb bar

Version 1.7.1 (5 Aug 2015)
* Removed code containing screen-reader-text

Version 1.7.0 ( 15 July 2015)
* Added data-href to google plus social buttons in like-buttons.php
* Fix for illegal string offset warning in ussf_posted_on() and ussf_article_meta ()
* Fix for Featured images issues
ie8 issue - http://heatmaptheme.com/forum/viewtopic.php?p=13544#p13544
Firefox and ie resizing issue http://heatmaptheme.com/forum/viewtopic.php?p=13424#p13424

Version 1.6.9 ( 27 Jun 2015)
* Removed Not found messages from category listings because categories might be 'stub categories' not containing posts but still containing sub categories

Version 1.6.8 (1 Jun 2015)
* Added support for breadcrumbs with category - subcategory - sub-subcategory etc (previously only category and subcategory was supported)
* Edited changelog to move description and correct 'requires' and 'tested up to' fields.
* Bootstrap does not support ie7 and Microsoft have now discontinued XP (which includes ie7) but have added in some token support for ie7.
* Note: ie7 tweaks are intended to keep the site relatively readable but do not attempt to fix overall ie7 styling issues.
* Also note: Genericons have been disabled for ie7 rendering.

= 1.6.7 ( 25 May 2015)
* Fix for illegal string warnings in $active_widgets for all silo widget in template-tags.php

* Fixed bug in featured image widget position which was showing space when no widget was showing
* Added new option to be able to remove related posts from home page.
* Moved silo subcategories widget up under the categories description for better seo and renamed title to "Topics Related to..."
* Added new option to be able to remove silo widgets from categories, pages and posts.

 

Veersion 1.6 ( 1 Mar 2015)
* Added global variable to functions.php $ussf_current_version
* Enqueued scripts in footer wherever possibe from function.php
* Changed Page ID's to include to Page ID's to exclude
* Changed like-buttons.php to allow for like buttons on pages
* Changed css to force border radius of featured images (overriding any bootstrap style)
* Fix Round corner not applied on featured image when seeing the full post (single.php)
* Remove 'Not Found' from mobile menus
* Added extra page templates for 'No Like Buttons' and 'No Widgets' (in the sidebar)
* Added code to allow Bootstrap Recent Posts widgets to change link colour as per options page
* Extra widget position in Sidebar (sidebar right bottom)
* Removed link on featured image when no custom image link is specified in paage or post
* Commented out the requirement that there be posts showing on a page (detected throug $ids) before ussf_silo_related_posts() shows
* Removed 'Not Found' message from ussf_custom_menu_name() in /includes/extras.php
* Fixed ussf_index () to include no-index, follow instead of no-index, no-follow.

* Fixed bug where an empty widget was appearing if there was no related pages to show
* Added extra option to select between Category & Post Silo on home page or just pages
* Added extra function to show pages in the sidebar nav on home page when page silos are selected
* Added a text field to allow selection of pages by page id for sidebar nav
* Yes I will do a proper multiselect box for the above at some stage in the future!

Version 1.5 ( 16 Feb 2015)
* Added option to include related post link strategy
* The distributed link strategy does two things:
* 1) For categories its gets related posts using the page offset. If there are no posts at the current offset the 0 offset is used
* 2) For single posts the strategy attempts to show ealier posts and if there are not enough then the most recent posts are shown.

* Changed behaviour of ussf_silo_related_posts() include an offset for the home page and categories to ensure that not just the most recent posts show.
* Added the like buttons to category pages

Version 1.3.0 ( 29 Jan 2015)
* Changed order of home silo widget position
* Changed with of SiloStorm images and links widget

Version 1.2.0 (5 Jan 2015)
* Added extra padding to top of page content
* Fixed post meta appearing on pages when pages not set to show meta
* Included ?rel=author on Google+ social icon
* removed rel=author on individual entries leaving it to the one in the social icons to be the main one
* Fixed up Google required microdata throughout theme

Version 1.1.0 (23 Dec 2014)
* Updated Bootstrap to version 3.1.1.
* Updated to Options Theme Framework 1.7.2 and made various modifications to framework
* Changed of_sanitize_textarea to allow unfiltered html in text areas
* Added fix to save_options_notice to prevent save displaying twice when theme options are first saved
* Implemented sidebar in Theme options page
* Added code to toggle off display of the options page until it is fully rendered to prevent the tab switching effect
* Added code to animate the Saved Option notice