Your go-to Click Missile - WordPress Advertising Plugin.
Use Click Missile to -
Integrate Email Signup within your posts
Insert 'buy' buttons for Jvzoo, Click Bank or Paypal wherever you need them
Mobile Device Detection with Ad Switching
Get More Ad clicks with proper placement of ads
Add banner within specific content or on single page
Fully Responsive
Get full control of your ads
A/B testing for your ads- Choose one which works best for you
Easy ad creation
Shortcodes for In-content Ad placement
Ad widgets with 5 in-content Ad positions
This WordPress Advertising Plugin is a precision ad and script insertion plugin which helps you in optimizing your AdSense revenue in WordPress.
The plugin adds excellent ad placement options to WordPress Advertising.
---
Ad Placement: Comes with a quick and easy way to place specific ads and scripts within the content of posts or specific pages.
Ad Widget: Powerful control over where ads and scripts should show in content or sidebars. Target ad widgets for posts in specific categories.
100% Responsive and Option to show Ads in Specific Devices: It detects the device on which the ads is displayed and adjusts the ad accordingly. It has active mobile ad switching functionality.
Script Ads: It is not just an advertising plugin but you can any kind of script or HTML snippet into your posts.
Optimize Your Ad Space: It helps you to place your AdSense ads at the most suitable position where it will get most clicks i.e. improved CTR.
Full Control: It allows you to have complete control over the placement and scripts of the ad that show in the content or widgets/sidebars.
Some more features to help you manage your Ads:
---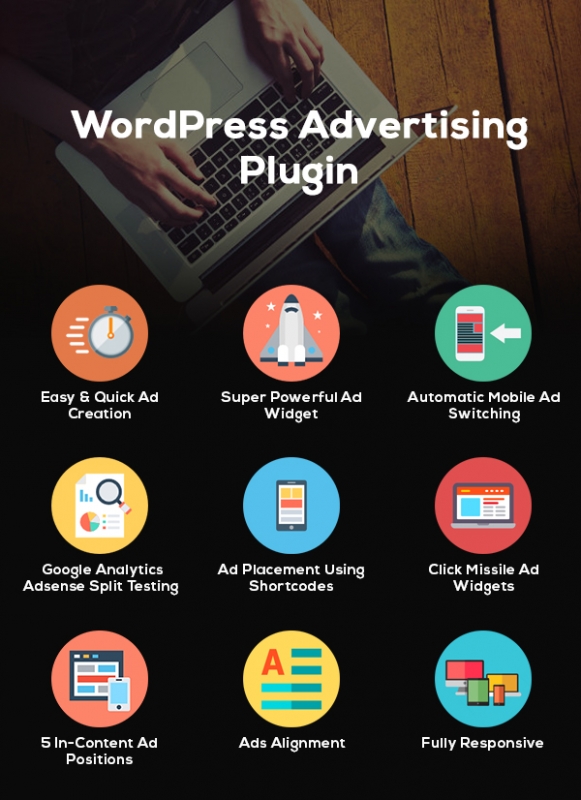 Checkout this video to learn more about WordPress ads:
---
Key Features of Click Missile - WordPress Advertising Plugin:
---
Easy & Quick Ad Creation in just a few clicks
Automatically switch Ads suitable for hand-held devices (tablets & smartphones)
Integrates with Google Analytics AdSense Split Testing Experiments
Shortcodes for In-content Ad placement
Ad widgets with 5 in-content Ad positions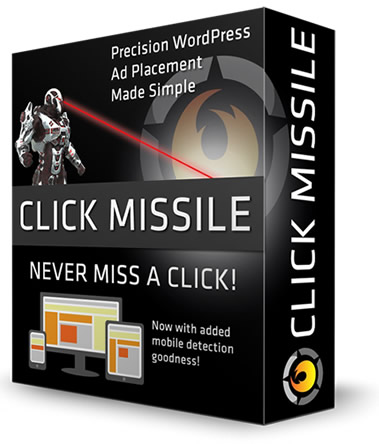 Super Easy Ad Creation
---
This WordPress Advertising Plugin helps you create ads which are as easy as creating WordPress post. Apart from creating ads, it also allows you to add any kind of script or HTML code snippet into your posts.
Click Missile Ad Widgets: 
---
It includes a super ad widget which helps you control on which pages, posts or categories you want your ad to be displayed. Apart from that, there are many customization settings which you can do with it.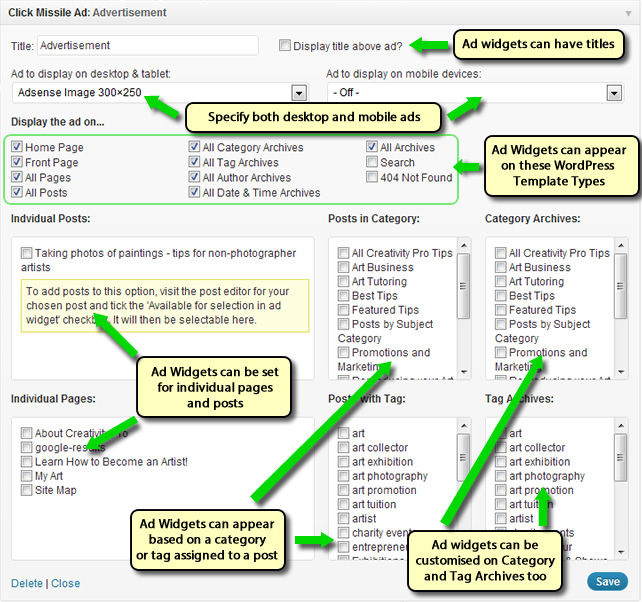 Super WordPress ad widget settings:
Display ad widget for all major WordPress template types
Display ad widget on individual pages and posts
Display ad widget on posts with specified categories or tags
Display ad widget on a specified category or tag archive
Widget titles can be set (or turned off)
Alternate mobile ad settings
Mobile Device detection and ad switching
---
Desktop ads are not suitable for mobile phones. Hence, this plugin comes with a mobile detection system and shows proper ads by doing ad switching.
Shortcodes for in-content ad placement
---
This advertising WordPress Plugin provides you with shortcodes which you can use to place inside your content where ever you want.
The Ad button sits right in the WordPress editor. It helps you directly inject a shortcode in your page or post.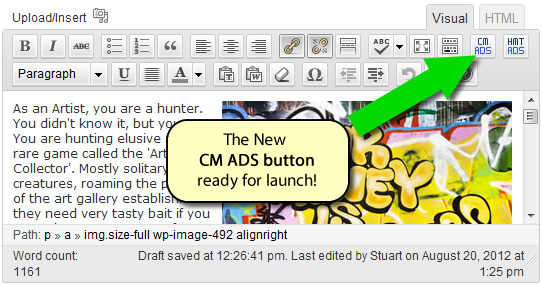 Once you click on the button, a dialogue box will be displayed like this-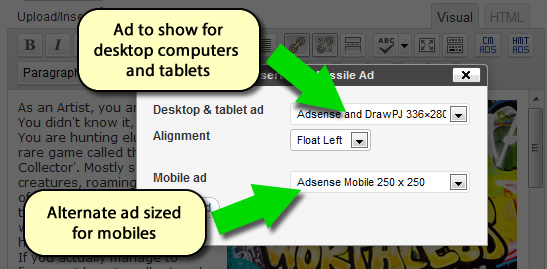 Ads Button features:
Insert WordPress Shortcodes direct into page or post
Ads alignment - left, right, center, float-left, float-right or none.
Mobile Ads sizes
Integrated with Google AdSense experiments - Split testing
---
Google AdSense experiments are a great way to increase CTR.
Perform split testing experiment for your ad placement and discover which AdSense layout works best for your WordPress site for individual page and post.
Thus we have integrated experiments in Click Missile so your AdSense ads will be shown as you want.
Complete features:
---
Easiest way to place ads and scripts inside your content
Powerful ad widget to control placement of ads and scripts in content and sidebars
Targeting ads to specific categories via widgets for posts
Automatic mobile detection and ad switching
Google AdSense split testing integration
Easy to add to scripts for buttons, email signup in posts
Shortcodes available for in-content ad placement
== Changelog ==
---
 Version 4.2.3 (30-Nov-2016)
* Fixed Widget (Click Missile Ad) issue

Version 4.2.2(10-Oct-2016)
* Enhanced look and feel of admin settings page

* Fixed conflict issue with Smooth Scroll Up plugin.

* Added functionality for the admin to display ads on specific author's posts.

Version 4.1.3 ( 2-Aug-2016)
* Added extra query string split test group capabilities
- Using http://your-url.com/?cmsplit=default will force the plugin to show all ad that DO NOT have a split test group name associated with them
- Ads inserted using the CMADS button can now have a split test group name associated with them.

Version 4.1.2 (1-Feb-2016)
* Removed erroneous debug print statement from cmam-is-mobile.php
* Changed cmam.php to enqueue clickmissile js script in footer
* jquery-ui-dialog is seemed to have been removed from core wp. Now enqueued by the plugin along with accompanying css.

 


---